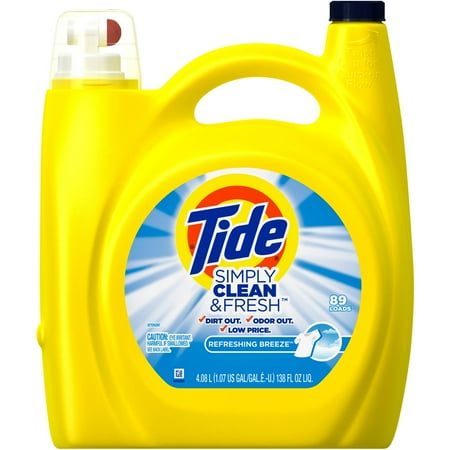 Once again Top Cash Back is offering a sweet freebie for new members. Last time it was the Finding Dory DVD and this time it's a 138oz Bottle of Tide Simply Clean and Fresh liquid laundry detergent.
Have you heard of TopCashBack?  It's a basically like shopping online and getting a cash rebate electronically.  The deals aren't always this amazing and they don't last long so when I see them I'll be sure to share them right away!  This offer is for new TopCashBack members only and is only valid through Thurs. Nov. 10th.
Ok the details on this offer go like this…
Sign up for TopCashBack and use THIS LINK to find the FREE TIDE offer.  Make sure you choose the SPECIFIC Tide listed above.

Click the "Get Cash Back Button" you will be redirected to the Walmart website where you can order the Tide Laundry detergent, this is a direct link to the correct product.

Select free in-store pickup at your local Walmart. This is VERY important: Do not order anything else. Only order the Tide laundry detergent or the deal will not be valid. 

You'll see a $9.90 credit in your TopBackCash account within 21 days of picking up your order.
When  you are ready to cash out you can choose Paypal, Amazon Gift Card, or Direct Deposit into your bank are a few of the payout methods, there are others but these are the most common.